Want to get married in a cute, seaside resort town? Then Long Branch, NJ might be the place for you! When you get married in Long Branch, NJ you'll be adding your story to the long history of the area, which includes the fact that President Grant and his family summered at their beachfront cottage in Long Branch from the first year of his presidency in 1869, and for most of the rest of Grant's life. During this time, Long Branch came to be called the "summer capital". The town was also host to at least 6 other Presidents over the next 50 years, and for many decades, during the summer the town would fill up with the creme de la creme of NYC society, including the Gould, Vanderbilt, Sloan, and Drexel families. Fancy! With all of that in mind, here are a few gorgeous Long Branch, NJ wedding venues to consider for your celebration!
McLoone's Pier House
McLoone's Pier House is perfectly situated right on the beach, with stunning views of the ocean, in fact, the Atlantic room boasts 3 entire walls of floor to ceiling windows overlooking the water. So if you enjoy spectacular coastal sunsets in a classic contemporary event space, the Atlantic room might fit the bill! Also, McLoone's is a full service wedding venue, and all of their weddings include a Maitre d' to coordinate your reception, custom made floor length wedding linens, votive candles to compliment your centerpieces, a custom made wedding cake, customized decor up-lighting, a private bridal bathroom, direction cards for your guests, and VIP white glove service. If any of this sounds good to you, take a look for yourself, and you'll see just how much McLoone's Pier House has to offer! 
Wave Resort
Located right in the heart of Pier Village's bustling community of shops and restaurants, Wave Resort offers an exceptional boutique hotel experience that includes exclusive amenities, modern guest rooms and stunning event spaces! Maybe you dream of saying "I do" at a beachfront ceremony with the sights and sounds of the ocean as the backdrop, or maybe you see your ceremony taking place on their spectacular outdoor terrace overlooking the Long Branch shoreline; truly, either option is going to be exceptional! Their team is also there to guide you through the planning process with extensive preferred vendor lists, and will work with you to develop a customized wedding menu, as well as organizing hotel room blocks to ensure all your wedding guests are well taken care of. They will also help you book spa services, or day-of esthetics services and champagne so you feel pampered and relaxed all day. It all sounds quite lovely doesn't it?!
Avenue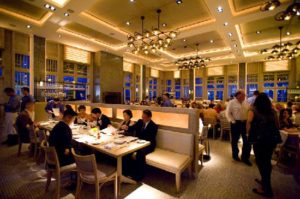 We consider Avenue an extraordinary New Jersey venue containing gorgeous modern yet timeless amenities. At Avenue, whether you envision exchanging vows with ocean breezes on the beach or saying your "I do's" on a rooftop deck overlooking the magnificent Atlantic Ocean, you won't be disappointed! Avenue can also host sit-down dinners of up to 200, but  if hip and casual happens to be more your style, their third floor lounge could be perfect for a cocktail party style reception! No matter what style of wedding you're thinking of, the stunning sunsets and sweeping views of the Atlantic Ocean that Avenue provides are sure to enhance the experience! All of that combined with exceptional service, personal attention and delicious cuisine, you can't go wrong hosting your wedding at Avenue!