We think that Staten Island doesn't always get the respect it deserves, when the island is in fact, home to a rich and important history that goes all the way back to the days of New Amsterdam, now otherwise known as NYC! Staten Island was actually considered a summer resort until the construction of the ferry in 1886. Neat!
Maybe you want to get married while gazing out over New York Harbor? If you've ever thought about it, then maybe Staten Island is for you! But, with so many venues to choose from, where do you start? Well, we wouldn't ever tell you what to do, but here are a few of our favorites to start you on your way!
The Vanderbuilt At SouthBeach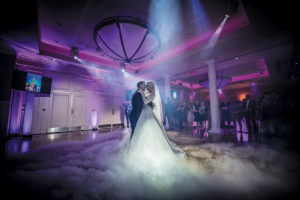 Let's start with dramatic ocean views, relaxing natural acoustics, and a gorgeous vista of the Narrows Bridge, the Vanderbilt at South Beach is a gorgeous setting for a wedding! This lavish facility boasts a grand ornate staircase, multiple dramatic chandeliers and spectacular drapery. You and your sweetheart could exchange vows on a pristine beach, or the immaculate glass enclosed chapel on-site offers an intimate setting for a ceremony. Guests can enjoy  cocktail hour on the large deck, and pose for spectacular photos along the boardwalks nearby, while watching a beautiful sunset. The Vanderbilt at South Beach can actually claim the honor of being Staten Island's only oceanfront ballroom. And, talking about that ballroom…It features lush carpeting, a polished marble dance floor, and grand windows to frame the view of the Atlantic Ocean and the city skylines of Manhattan, Brooklyn, and Jersey Shore! Then there's the food! At Vanderbuilt, it doesn't matter whether you decide to host a traditional three-course dinner or family style service, you can trust you'll receive  absolutely delicious gourmet food that happens to come with professional white glove service!
Grand Oaks Country Club
Next up we have Grand Oaks Country Club, which has been voted "Best of Weddings' by Manhattan Bride for many years in a row. The Country Club boasts 147 acres of gorgeous land, and can accommodate celebrations of up to 1500 guests! Impressive! If however, you're looking for something a little smaller, there are multiple other outside options available to you, all overlooking the beautifully landscaped golf course. With all the lush grounds and beautiful backdrops on the property, your wedding photos will be elevated, simply by your choice of venue! As a big bonus, the Grand Oaks specializes in Kosher weddings, and loves to provide catering of all different ethnic cuisines.  No matter what they're preparing, in our experience, it's going to be delicious!
Celebrate at Snug Harbor
Planted in the middle of the Snug Harbor Cultural Center and Botanical Gardens, Celebrate at Snug Harbor, is one of the area's best kept secrets, but we don't want it to be secret any longer! The picture perfect landscaping, lavish botanical gardens, remarkable architecture and fine history of this idyllic campus, make for a truly one-of-a-kind location to celebrate your big day! The New York Chinese Scholar's Garden, for instance, will simply blow your mind with its sheer gorgeousness! The formal Great Hall features splendid 40-foot ceilings and huge Palladian windows, while the quaint old-world charm of the Lower Great Hall is ideal for entertaining during cocktail hour. Moving on, their recently refabbed tented pavilion, is the perfect blending of indoor amenities and alfresco charm, and makes the tent pavilion one of the most picture perfect event spaces on the property! As a massive plus, Celebrate is also incredibly LGBTQ+ welcoming, and is open to micro-weddings of 30-50 guests, making Celebrate at Snug Harbor one of the most versatile venues in the Borough! Future you will thank present you for looking them up today! Trust us!