Charlotte Venue Ideas: Queen's University
The choice of venue really does set the tone for the whole wedding. It's one of the most important considerations (other than choosing an amazing DJ, obviously). And there are definitely a lot of awesome venues out there. And that's especially true of the Charlotte area. But here's one we haven't frequented (a rarity): Queen's University of Charlotte.
We've made it very clear that the weddings we particularly enjoy being a part of are the ones where the couple of the day make it their own. Venues they have a history with, pictures and quotes that mean something, friends and family heavily involved in the day… all these things a memorable wedding makes. And this was an example of a venue the bride and groom had some history with. Getting married at your college is definitely a cool choice.
Would highly recommend! We had DJ Ryan for our wedding and he did a phenomenal job leading up to our wedding and on the actual wedding day. He answered all of our questions during the two pre-wedding calls that we had with him and knew all of the key moments in our schedule for the day. Ryan arrived on time to the venue and was able to transition quickly from our ceremony site to our reception location. He also wonderfully balanced confirming scheduled moments with us while also giving us space to enjoy the event and not feel like we were rushed or had to be on point throughout the day.
An Interactive Reception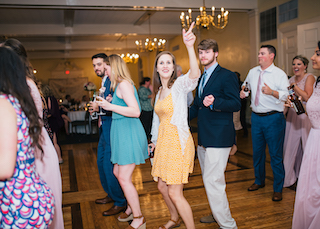 As we've mentioned (here any in many many other blogs), another factor that makes for a unique, personal wedding is involvement of the family and friends. And we saw that up and down here. From prayers by family members to welcome speeches by parents, there was a lot of family and friend involvement.
Another factor we love is an interactive reception. We had the shoe game, group dances, and a whole lotta guest involvement. We even liked that shoe game photo so much, we put it on our homepage. Laura and Matthew definitely took a very active role in their reception, and it showed.
The music for the night is something we'd be remiss if we didn't mention. It was awesome. Though, with a killer "must play" list from Laura, it would've been hard not to be. We were going from Usher to Cyndi Lauper to Maroon 5 to Luke Bryan. The must play's were also full of songs that were significant to the bride and groom (spoiler alert: also something we love). The way you could just tell the songs were meaningful is something uncapturable in blog form. But it was something that could be felt by everyone there.
---
Vendor Team
Venue
Belk Chapel and Queen's University, Charlotte
[email protected]
Entertainment
Dow Oak Events
www.dowoakevents.com
[email protected]
Photography
Memories by Lexi
www.memoriesbylexi.com
[email protected]
Caterer
Sunflour Bakery Dilworth
www.sunflourbakingcompany.com
[email protected]
Florist
Jolie Florals
[email protected]
---
Final Thoughts
And as a final note, we just need to say… We absolutely love what we do. Being a part of the unique and personal ways couples celebrate is why we do it. And we loved being a part of this celebration. It's always awesome to see how couples choose to celebrate.
In conclusion, we've learned that being a wedding DJ in Charlotte isn't just about playing the music. So we take our role seriously. Facilitating such a big day is a serious job! That's why we always give every wedding or event our all.
---
take a look at our videos.