A Very South Carolinian Venue
We've been to a lot of venues in Lexington. We've even been to a lot of venues in South Carolina. But after we went to Corley Mill House & Garden we knew we had to write our next blog about it. And due to all our traveling, you can believe us when we say: this one was worth writing about. Lexington is just outside Columbia, which is one of our favorite cities in SC. That Midlands aesthetic really can't be beat. And, truth be told, we have kind of a soft spot for Lexington in general.
When we first showed up at Corley Mill House & Garden, we knew immediately it was gonna be a good night. The way everything came together was absolutely a sight to see.
The Corley Mill House & Garden describes itself as straight out of the pages of "Gone With the Wind." And after we took a look around, we would have to say we agree.
The Corley Mill House & Garden is a stately old house framed by pecan trees. It's a quintessentially South Carolinian venue.
It's hard to overstate just how many different venues and receptions we've seen and hosted. As traveling wedding DJs, it's our job to create custom celebrations all over the Carolinas. There was something unique about this one though.
After expanding from our home in North Carolina, we've really enjoyed taking in the sights of cities in our Southern neighbor. Venues near Columbia have consistently been some of our favorites, and this one in Lexington is definitely at the top of our list.
DJ Freddie was amazing to work with! We used him for the ceremony, cocktail hour and reception. Planning on the portal made everything super easy, followed by a detailed phone call to ensure all details a few weeks prior. Freddie was accommodating and took on making announcements to keep the night on track. Every single person at our reception ended up on or around the dance floor, and we could not have been happier. We had the time of our life celebrating with the ones we love. Thank you!!
The Sights We've Seen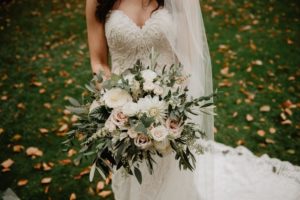 There are many factors that go into creating a unique wedding. And in our travels through South Carolina, we've seen too many great weddings to count. But what really makes any Lexington wedding great is the vibe.
And as professional wedding DJs, cultivating the vibe is our specialty.
Choosing the right wedding music is as much an art as a science. It's about finding music that suits a couple's personalities but also fits with the vibe of the day. If your favorite genre is metal, but you're not having a metal-themed wedding (which, admittedly, sounds cool), then metal may not be the way to go.
Charlotte and Mike definitely had some awesome tastes.
We had a dance party featuring everything from Ed Sheeran to Brittany Spears and T-Pain. And as DJs, that's always something we appreciate.
Our skillset is in music in general. Occasionally folks ask us if we can do a particular kind of music or genre, and our answer is always a resounding yes. If it's the music our couple wants, then it's the music they'll get.
And it's always the best when that translates onto the dance floor. What makes for the best reception throw-downs is a wide variety of music. That's also what keeps the dancing crowd on their toes.
We could go on and on about Charlotte and Mike and their celebration at Corley Mill House & Garden in Lexington, SC. But for now we'll just stick to saying that we had an amazing time. We're always grateful to be able to be a part of anyone's big day. That's why we got into this business. Being able to craft custom Columbia celebrations is something we'll never get tired of. We can't wait to come back to Lexington!
Final Thoughts
And as a final note, we just need to say… We absolutely love what we do. Being a part of the unique and personal ways couples celebrate is why we do it. And we loved being a part of this celebration. It's always awesome to see how couples choose to celebrate.
In conclusion, we've learned that being a wedding DJ in Columbia isn't just about playing the music. So we take our role seriously. Facilitating such a big day is a serious job! That's why we always give every wedding or event our all.