Dow Oak Events
Best Photo Booths in High Point
Remember the Moment
High Point Photo Booth Rentals Made Easy
It's your special day.  You want to remember it.  After all, what good is a party, event, or celebration of no one remembers it?
That's where we come in.  For years, Dow Oak Events has been dedicated to making events spectacular.  That's why we provide not only the best music, but also the best entertainment.
Our photo booth rental system is designed with you in mind.  Planning a wedding, holiday party, or corporate event is stressful enough.  You shouldn't have to add the stress of booking a photo booth.  So we took care of that.  Our booking system is simple, but our booths are anything but.
If you don't believe us, check out our reviews.  Our hundreds of glowing reviews show we're doing something right.  When you book Dow Oak Events Photo Booth for your High Point event, we're confident you'll have a 5-star experience, too.
Why You Need Dow Oak Events
Unforgettable Moments
Capture the moments that made your event special.  Weddings (or any event, for that matter) often go by in a blur.  Between drinks, socializing, and dancing, it's hard to remember all the moments that made it special.  With a Dow Oak Events High Point photo booth, you can be sure that you'll always have a physical reminder of what made your event so unforgettable.
Unbeatable Experiences
While planning an event, many wonder if there will be something for everyone to do.  How do you ensure there's no groups feeling awkward or left out?  Two words: Photo Booth.  Photo booths create an inclusive atmosphere that virtually every guest can get into.  They're more than just entertainment.  They're a full experience.  Don't wonder if there will be something for everyone.  Book an experience.
Ignore this - but still book photo booth pls
Is a Photo Booth Worth It?
When it comes to remembering events, there's some things a photographer just can't capture.  A photo booth can capture those moments.
What Areas Do You Serve?
We serve High Point, Lexington, Thomasville, Asheboro, Trinity, and many other areas near High Point, North Carolina.
Why Book Dow Oak Events?
Dow Oak Events photo booths are always a hit.  A phrase we hear all the time is "I can't believe I almost didn't get a photo booth."
Best High Point Photo Booths
See Our High Point Photo Booths in Action
Throwing the Best Event in High Point (with the best entertainment)
One of our favorite parts about serving different areas of NC is getting to see all the unique celebrations in different cities.
We've provided photo booths for events across the North and South Carolina, but High Point is always one of our favorite places to visit.  And we're so proud to be one of the top High Point photo booth companies.  There's no bigger compliment to us than that.  So we always go all-out for every High Point event.  No exceptions.
To have the best wedding or event, you want a vendor who's been there.  Who knows the venues and the local businesses.  And more than that, knows how to celebrate you while accenting your city or venue.  But don't take our word for it. See our real wedding success stories from the High Point area.
The story of Flat Mountain Farm starts in December 2019, when owners Christopher and Margaret Shutze, the husband and wife duo of Shutze Studio, moved to Highlands with their two young boys to make magic happen. They purchased the property - home to a rustic but run...
Our Photo Booth Packages
There's no one-size-fits-all for events.  But we guarantee we have a package that can be tailored to your specific event.
Photo Booth With DJ
Adding Photo Booth To DJ Package
Service Time Matches Your DJ Package

Back-ups On Standby

Access To Online Planning Portal
Photo Booth
For Any Event
Unlimited Print-Outs

GIF, Email, and Text Capable

Customizable Photo Strip Templates

On-Site Attendant To Run And Manage Booth

Props And Backdrop Included
Selfie Station
Add To Any Package
Unlimited Text And Email Sharing

Digital Props

Create Custom Gifs

Digital Photo Album After Event
Areas Near High Point We Serve
Trinity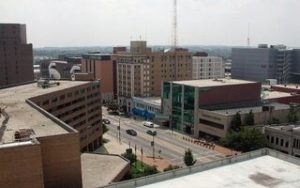 While we love traveling to Trinity for photo booth events, it's not the only area in the Piedmont we enjoy visiting.
Part of being a mobile event entertainment company is visiting new places.  And that's one of our favorite parts of the job.
Being a part of events all over the state and country is something you can't get in any other line of work.  And meeting the people and visiting the venues of Trinity is something we'll never get tired of.
Thomasville
We can't overstate how much we've enjoyed renting photo booths in Thomasville.  NC really does have some of the best areas.
A unique aspect of photo booths (and photography in general) is capturing not only memories but also places.
The location of a venue or event is a crucial part of the event.  That's something that gets overlooked sometimes.  But appreciating and knowing you location is a way to bring out the best in your event.
Archdale
Weddings and other events in Archdale are always a breath of fresh air.
From weddings to corporate events to birthday parties, we've loved virtually every event we've been a part of in Archdale.
Getting to travel to new places and entertain the people there is something you can't get in any other job.  It's one of the main reasons we do what we do.  And we couldn't do it without community trust in our services.
Asheboro
Asheboro is one of those cities that needs to be seen.  Words just don't do it justice.
That's one of the main reasons we've enjoyed providing Asheboro photo booths as much as we have.
Getting to travel to areas like this and be a part of unique celebrations is the best part of being a mobile photo booth rental company.  It's also something we wouldn't trade for any other job out there.
high point, nc
randleman, nc
asheboro, nc
thomasville, nc
lexington, nc
archdale, nc
trinity, nc
kernersville, nc
oak ridge, nc
Pleasant Garden, nc
We were more than pleased with Erik! Super laid back and easy to work with. He knew exactly what music we were looking for and how to keep things going! And made sure everything went the way we had asked for the ceremony and wedding. Such a delight to work with! Thank you! Dow Oak Events provided an awesome reception atmosphere for our guests!! We honestly had so much fun! Our DJ was awesome and kept the party going. Our guests also really enjoyed the photobooth! Would recommend for any event! We had Ryan as our Dj and he was awesome!! He did such a great job reading the atmosphere and keeping the music and fun going. I would totally recommend them 🙂 If you are looking for a DJ that will not break the bank or take up the majority of your wedding budget AND keep everyone on the dance floor …. Dow Oak Events is the perfect fit! We have gotten tons of compliments from our guests that our DJ was awesome! Freddie Sweeney was professional, easy to work with, super friendly and creative in the right ways. He allowed us to feel that our input was important, but also allowed us to trust him to take the reins. A great DJ was important to us, but also one of the areas of our wedding planning that we felt we didn't have enough recommendations that fell into our price range, but were also great DJs. Freddie and Dow Oak exceeded our expectations and put our fears of a bad DJ that couldn't keep people dancing to rest! We could not have had a better experience!! The communication prior to our wedding was nothing short of the best, it was obvious she genuinely cared and wanted everything to be perfect. Let me start by saying Freddie was amazing! The whole process of booking with Dow Oak was very simple and they really cared about making sure you were happy and satisfied with their services. They are priced VERY WELL. Freddie was on his game throughout the planning process up to the wedding. The ceremony and reception went perfectly. These guys are the best! Thanks again Freddie! love from G & A The DJ we had did her job perfectly! She even went above and beyond to go around and let tables know when they could go up to the buffet. At one point there was a change of schedule and she just smoothly went a long with it! Thank you for helping us make our big day awesome! This was the easiest review yet! I can't say enough great things about Freddie. A DJ sets the mood for your event and he made our wedding reception everything we asked for and dreamed of! He kept everyone engaged and the dance floor was packed all night! I definitely recommend Freddie!
Mackenzie C ,
theknot.com Freddie was awesome! We were supposed to have a different DJ from Dow Oak but something came up and Freddie was the replacement. We were worried at first but after talking to Freddie on the phone, we knew he would be good. He seemed very organized and did a good job of getting/keeping the party going. After the wedding, everyone was telling us how much fun they had and Freddie was a big part of that. DJ Ryan was so easy to work with! He was prompt, flexible, and supportive of our tastes and preferences. Dow Oak Events was within our budget, provided a lot of support and helpful items within their client portal, and very easy to work with as far as payment and planning. We were very pleased with our choice and would recommend them to others. Ready for Your Priceless Celebration?