Vendor Team
Venue
The Lofts at Union Square
410 W English Rd
High Point, NC
336.880.6115
www.unionsquarehp.com
Wedding Planner
Tammy Koenig Wedding Design
Tammy
tammykoenigplanning@gmail.com
www.tammykoenig.com/
Officiant
Ronald (Ron) Grillo
Photographer
Urban Bloom Photography
Brooke and Joey
336.428.0146
www.urbanbloomphotography.com/
Caterer
Exclamations
Anna
336.299.2600
www.exclamationscatering.com/
Cake Baker/Decorator
Duck Donuts
336.804.5571
Florist
Tammy Koenig Wedding Designs
tammykoenigplanning@gmail.com
www.tammykoenig.com/
This wedding was seriously stunning. Everything looked amazing, but what really made it were the floral arrangements. These succulents came all the way from Holland! Not only did everything look amazing, but also the venue was awesome to work in. Everyone worked together towards one goal: making the day the best possible for the newlyweds.
Virginia had this to say: "My husband and I were completely blown away by Erik and the Dow Oak team! They did a wonderful job and were so professional! They were able to provide multiple setups for our wedding and transition between them seamlessly. They definitely went above and beyond for us. Our dance floor was packed all night long. Our experience was remarkable and we would highly suggest Dow Oak to anyone!" 
And we definitely had a good time at this wedding. With all the vendors helping, everything went off without a hitch. With all of us working together, we can make everything go as smoothly as possible. And that's exactly what happened. We even provided water to the partying bride and groom so they didn't have to leave the dance floor!
As it got later we transitioned into full on rave. We also helped organize a guest appearance by another well-known DJ, Marshmello.
A night of dancing, drinks, and donuts… what more could we want? This couple and all the vendors are what made this party at The Lofts.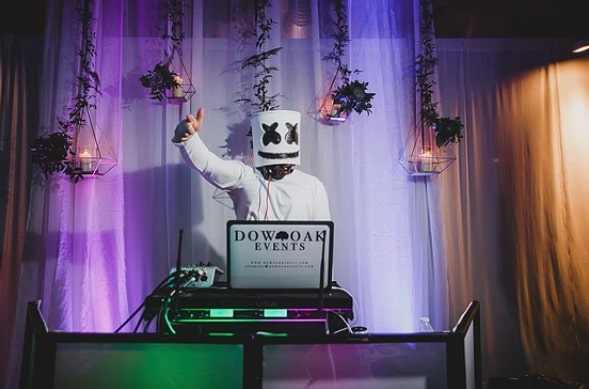 With the help of the bride, we were able to bring a favorite DJ of the groom's onto the team for this one. The groom was definitely suprised!
With the help of all our DJs, we kept the dance floor packed all night. With the awesome lighting and amazing music, everyone had a great time.